---
The Fallen Priests Film Festival
Part II: Drama/Historical/Documentary
Movies and Videos
About Compromised Clerics
There's a vast number of dramas involving priests and nuns.
Some are much more realistic than The Singing Nun
---
Here continues a list of movies and TV shows that feature "fallen priests"; for this purpose defined as Christian religious figures of either sex who are ethically challenged in some way.

This page is devoted to realistic drama and historical films. However, some of these movies are devilishly difficult to classify. There's a whole strange genre of films called "nunsploitation", all about sexual repression and acting out in the convent, that range from serious historical films, such as The Devils, to outright porn. The cinematic descendents of Maria Monk, these are mostly Italian films, but this field is truly ecumenical, with entries ranging from Mexico to Japan. Depending on their trash and erotic content, most have wound up listed under Horror. Another category these days ought to be "sci-fi," because priests seem to turn up more and more in science fiction, too.

There is also a similar exploitative sub-genre, which could be called the "killer confessional", where the plot turns on murder and sexual secrets in the confessional box.

Again all these movies may be found under Horror/Supernatural.

Due to the outpouring of fictional movies and nonfictional documentaries related to the clergy sexual abuse crisis in the last several years, they have now been separated out into their own category below.

300 SHOWS TOTAL NOW LISTED

---

Rating Guide

Note: this is not concerned with the overall quality of the film as much as the "fallen priest" aspect.

† — Has one or two scenes involving a wicked priest and/or Catholic weirdness.

† † — More plot and exposition or weirdness.

† † † — Lots of religious stuff or just worth it for the fallen priest alone.
And no daggers at all simply means I've not seen it yet, or can't recall it.

and means the entry has been added or amended fairly recently.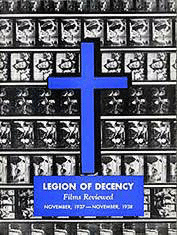 NOTE: These movies range from family fare to "adults only". Some are truly inspirational, most of the rest are fairly realistic and not too extreme by modern standards; however, few would likely have been blessed by the Legion of Decency, the nuns who taught catechism, or your Mom, and some in this category might even constitute a "near occasion of sin".
---
Drama
In drama and literature, the clergy have a far wider range of possibilities, of course, from minor supporting roles to heroes or villains, or even a little bit of both.
The African Queen (1951) †
John Huston directed this classic film about a hard-drinking riverboat captain, Humphrey Bogart, who rescues a straight-laced missionary, Katherine Hepburn, in World War I Africa. Hardship and ultimately romance ensue as she ultimately persuades him to attack the Germans. A truly great movie, for which Bogie won his only Oscar.
Agnes of God (1985)
The late Anne Bancroft plays a mother superior of a convent wherein a novice is found with a dead newborn in this muddled thriller with theological overtones.
Amen. (2000)
Director Costas-Gavras, known for his controversial political work, tackles the Holocaust in this award-winning film about an SS officer, aided by a Jesuit, who seeks to inform Pope Pius XII about the fate of the Jews.
Angels & Demons (2009) † †
More Vatican skullduggery in Dan Brown's prequel to The Da Vinci Code, which is now its film sequel. Doesn't matter though, the plot is quite similar: hero symbologist Robert Langdon, Tom Hanks, is out to save Rome with the help of a brunette. This time it's from an antimatter bomb during a Conclave to elect a new pope as four cardinals are ritually slain. Ewan McGregor helps out. The CGI work on St. Peter's and other locales is as flawless as the previous film, and enough of the plot is changed, that despite the Church's grumbling during production, director Ron Howard, like his hero, earns his papal blessing. Not recommended for those hoping to see the Vatican nuked (no one I know, certainly).
The Apostle (1997) †
Robert Duvall directed and stars in this award-winning, slow-moving but effective story about a minister whose perfect life is shattered when he kills his assistant in anger for sleeping with his wife. He takes off, seeking redemption as a preacher in small-town Louisiana.
Bad Education (2004)
Acclaimed Spanish director Pedro Aldomóvar's tale about a boy growing up during the Franco era in a religious school. Has many gay characters, including a priest. Not for squeamish homophobes, I'm told.
Bad Lieutenant (1992) †
Not really a "fallen priest" film, but after a young nun is raped, Harvey Keitel is on the case as a corrupt cop seeking some kind of redemption in hunting her perps and then letting them go.
Behold a Pale Horse (1964)
Gregory Peck, a revolutionary survivor of the Spanish Civil War turned bandit, wants to return home. But the police lay a trap for him, enlisting priest Omar Sharif for assistance.
Black Narcissus (1947)
Deborah Kerr as a nun leading a small band of sisters trying to establish a convent and school in the Himalayas, facing local suspicions and the demons of the flesh.
The Body (2001)
When a 2000-year-old crucified body is found in Jerusalem by an Israeli archeologist, Olivia Williams, the Vatican sends in a priest, Antonio Banderas, to make sure it's not You Know Who. Political and religious chaos ensue. In the end, the priest quits but otherwise nothing much is decided.
Brides of Christ (1991)
Highly regarded Australian TV mini-series about the changes and challenges at a boarding school run by nuns after Vatican II. Sounds like a real Aussie penguin fest to me, but could it make up for The Thorn Birds? Can anything?
The Bridge of San Luis Rey (1944)
Hollywood adaptation of Thornton Wilder's great novel about the catastrophic collapse of an Andean rope bridge which triggers a crisis of faith in a priest who researches the lives of the victims. "Hollywood adaptation" probably means the priest doesn't get burned to death with his research by the Inquisition at the end, like in the book. Spoilsports.
The Cardinal (1963) † †
Otto Preminger's epic about the rise of a Boston priest, Tom Tryone, to power in the Vatican features John Huston as a cardinal. Overlong, weighed down with serious social issues like abortion around the time of Vatican II, it nonetheless won 4 Oscars.
The Celestine Prophecy (2006)
A man goes on a quest in Peru in search of a set of prophetic scrolls and undergoes a personal transformation. But a cardinal wants to spoil everything. Well, business is business, I guess. Based on the popular New Age novel by James Redfield, who co-scripted it.
Confession (1955)
A priest is marked for murder by thieves when a gang member confesses to a killing.
Contact (1997) †
Jodie Foster is an insecure, driven radio astronomer who flees halfway across the galaxy to avoid intimate involvement with hunky ex-priest-now-author Matthew McConaughy in this tale of faith and science in the search for extraterrestrial intelligence. Slow, thoughtful, and a little preachy – just what one would expect from the late pothead Carl Sagan, who wrote the story. James Woods and John Hurt also steal a few scenes, but it's also notable for the large number of cameos of real reporters and politicians. Pretty starscapes, and a nice use of the VLA, too.
The Crime of Fr. Amaro
(El Crimen del Padre Amaro) (2002)
An idealistic young Mexican priest faces ecclesiastical corruption in a remote village, and becomes corrupted himself with affairs with a young woman and a catechism teacher.
Dancing at Lughnasa (1998) †
Five unmarried sisters, including Meryl Streep, make the best of it in this family drama set in 1930s Ireland, taking care of their elderly brother, Michael Gambon, a senile missionary who's actually more together than all the rest of them.
The Dangerous Lives of Altar Boys (2002)
Whew! Apparently not at all what I would expect with a title like that these days. Supposedly it's actually a nice coming-of-age flick about a couple of Southern Catholic schoolboys in the 70s and earned good reviews. The boys plot animated revenge against a strict nun played by Jodie Foster after she confiscates the naughty comics they were drawing. Definitely on the "to be seen" list, though if things aren't a little weirder than what I've seen described so far, may not have what it takes to be on this list.
The Da Vinci Code (2006) † † †
Dan Brown's controversial sequel to Angels & Demons came to the big screen first, starring Tom Hanks and Audrey Tautou, with Gandalf gone bad Sir Ian McKellan, who hams it up with considerable magnetism. Albert Molina plays the bishop finagling the biggest cover-up in history and Jean Reno is obligatory as the relentless French cop. Ron Howard's excellent movie version actually improves on the book, using a lot of fancy camera work to make great use of its spectacular settings (much of which were faked because the Vatican did not let them film there).

Story concerns a desperate treasure hunt by an art historian falsely accused of murder for arcane clues to uncover secrets suppressed by a faction within the Church for millennia. Involved are a murderous albino monk, a sinister ecclesiastical cabal called Opus Dei, er, the Council of Shadows, and all kinds of apocalyptic skullduggery, leading to the momentous discovery that Jesus and Mary Magdalene were more than just BFF. Highly recommended for the fun of it.
Death of a Nun
(Dood van een non) (1975)
A crippled girl in Belgium on the eve of the First World War prays for healing, promising to become a nun. Once the miracle happens, however, she gets pregnant instead and is smited for it. All her family, including the baby, die; she eventually enters the convent but is consumed by hatred for God. I'm surprised they don't show this in parochial schools for its edifying ethical lesson.
The Devil at 4 O'Clock (1961)
Nope, not actually about tea-time with Satan. Four convicts, including Frank Sinatra, enroute to Tahiti are forced to try to save a children's leper hospital on another island before a volcanic eruption occurs, along with a priest, Spencer Tracy, and his replacement. Crispiness ensues.
Diamante Lobo (1976)
Lee Van Cleef plays a priest turned vigilante in this spaghetti Western who hunts a gang led by Jack Palance. He is killed by the gang in turn, leaving a young parishioner to swear vengeance. Richard Boone and Sybil Danning also star. Probably a lesson here somewhere.
Diary of a City Priest (2001)
David Morse plays a dedicated priest struggling in an inner-city parish. Said to be very realistic and based on a real priest's autobiography.
Doubt (2008)
Philip Seymour Hoffman, as a priest who is seemingly too friendly with a young black student, runs into trouble with head nun Meryl Streep. The Tony-winning play set in the Bronx in 1964, written and now done as a movie by John Philip Shanley, has won them all Academy Award nominations.
Elmer Gantry (1960)
Burt Lancaster stars in this tale about a superslimy evangelist in 1920's America. Yes, apparently they had them back then, too.
The Fifth Element (1997) †
In this entertaining Euro-stylish sci-fi comedy-drama adventure, Bruce Willis plays a cabbie trying to save the world and an adorable Supreme Being played by the divine Milla Jojovich. Ian Holm is the stalwart priest from some ancient Egyptian order trying to do the same, and Gary Oldman makes his usual terrific bad-guy, with Chris Tucker along for the ride as an annoying DJ. A fun movie with lots of eye candy.
Footloose (1984) (2011) †
City boy Kevin Bacon comes to a small town where the evils of rock music and dancing have been banned by no-fun fundamentalist preacher John Lithgow in this classic tale of teen rebellion. Can he loosen things up with his cool moves and win the preacher's daughter? Oh, those darned kids and their wild music... Now remade, for some unknown reason.
Forever Young (1983)
A young lonely kid idolizes a parish priest. When an old clerical acquaintance of the priest shows up, the boy learns that the priest had betrayed him, and he's seeking revenge.
Forgive Me Father (2001)
Story about a feared gangster who decides to drop out and hides as a practicing priest for a dozen years. When his brother is killed, he returns, Bible in one hand and gun in the other. Sort of a "God mob" movie, I suppose.
The Fugitive (1947)
No, not that doctor fellow falsely accused of murder. This one's about a revolutionary priest played by Henry Fonda, on the run from police in Central America. A somewhat allegorical film by John Ford, based on a novel by Graham Greene.
The Garden of Allah (1936)
A cloistered heiress played by Marlene Dietrich, travels to Africa and falls passionately in love with an ex-Trappist monk on the run, Charles Boyer. One of the first films shot in Technicolor.
The Godfather: Part III (1990) †
This has a very nice scene of a plummeting prelate in full garb intercut with a baptism as only Francis Ford Coppola, the master, could muster.
The Good Shepherd
(The Confessor) (2004)
Christian Slater as a wordly priest trying to defend another accused of murder.
Heaven Knows, Mr. Allison (1957) †
John Huston directed this excellent tale of survival and temptation set in the South Pacific during World War II. The great Robert Mitchum plays an American soldier shipwrecked on an island behind Japanese lines who befriends beautiful Deborah Kerr, a chaste nun. Though opposites, an unfulfilled romance blooms. (This was made in the 50s, after all.) Anyway, my mom loved it but it's still recommended.
I Confess (1953)
More hijinks in the confessional when the caretaker of a church in Quebec confesses to robbery and murder, putting his boss and confessor, Montgomery Clift, in a jam. Directed by Alfred Hitchcock.
The Keys of the Kingdom (1944)
Gregory Peck and Vincent Price are priests in this World War II propaganda piece about a dedicated missionary who struggles through adversity to gain acceptance amongst the heathen Chinese. Offhand, I'd say the plan didn't work.
The King (2006)
John Hurt plays a Texan pastor who is confronted with a disturbing young man who claims to be his son and tries to make the best of it with tragic results. Said to be one of Hurt's best roles ever.
The Lawnmower Man (1992) †
Stephen King's short story made into a sci-fi film about a retarded man (Jeff Fahey), who is regularly beaten by a sadistic priest (Jeremy Slate) but gains superpowers for vengeance when assisted by kindly neighbor scientist Pierce Brosnan's virtual reality experiments. The then state-of-the-art special effects seem hugely hokey these days, but the priest's brutality may still be triggering to survivors.
Leon Morin, Priest
(Léon Morin, prêtre) (1961)
Jean-Paul Belmondo plays a priest in occupied France in WWII who is criticised by an atheistic widow who eventually recants her error and falls in love with him. I suppose it kept her from collaboration with the Nazis.
LOST (2004-2010) †
This character-driven, epic TV series about the survivors of an airline crash on a strange and magical Island lasted six seasons. Never-solved mysteries piled onto each other as the story rose from action-adventure soaring through science fiction into flights of metaphysical fantasy. It finally touched down with a few satisfying answers but literally perfect grace.

The reason it's mentioned here is because in Season 2, the backstory of Mr. Eko (Adewale Akinnuoye-Agbaje) is told. He was a Nigerian druglord attempting to smuggle heroin out of the country in statues of the BVM by pretending to be a priest. He imposed his plans on his brother, Yemi (Adetokumboh McCormack), a real priest whom he had saved as a child, but Yemi died in the smuggling attempt, and so Eko continued to impersonate a cleric — even on the Island. Neither that nor his Other-bashing "Jesus stick" saved him from Smokey, though. Series HIGHLY recommended as the best (and just about only except for Star Trek) American gnostic TV series ever.
Machete (2010) †
An extremely violent political revenge thriller with Cheech Marin as a priest, formerly a cop, who helps his brother (Danny Trejo) fight drug dealers, bad cops, and racist politician Robert De Niro, and gets crucified in his church for his trouble. Lindsay Lohan also appears as the (naturally) troubled daughter of a bad guy, who in one scene disguises herself as a nun with a gun.
Mass Appeal (1984) † †
Jack Lemmon plays a disillusioned priest in this sincere rectory drama.
Michael Angel (1998)
A priest investigates the murder of his brother, a gay prostitute, in Puerto Rico and faces his own inner demons. The late Dennis Hopper is typecast as the psychopathic villain.
The Mole
(El Topo) (1970)
Cult director Alexandro Jodorowsky's legendarily surreal tale of a gunslinger's journey through Mexico, seeking revenge for a massacre, has images of naked Franciscan penitents, and something about a priest, I understand.
Monsignor (1982)
Political skullduggery in Rome when Superman Christopher Reeve, as an ambitious American prelate, rises through military and ecclesiastical ranks as a black marketeer in post World War II Italy. His scheming begins to unravel when he falls in love with a French nun, Genevieve Bujold.
Mother Joan of the Angels (1961)
(Matka Joanna od aniolów)
A Polish telling of the whacky events at Loudon. A young priest assisting a clerical official investigate a convent of possessed nuns in the 17th century, is compromised by a lustful mother superior. Supposedly very well done, with most of the excesses taking place off-screen.
Nazarín (1959)
Another movie critical of the Church by Spanish director Luis Buñuel, about an innocent St. Francis-like priest, who in his desire to imitate Christ, surrounds himself with beggars, prostitutes, and thieves, and is therefore soon forced out of the Church. All his efforts to help go astray until he finally questions his own faith.
The Night of the Hunter (1955)
Robert Mitchum plays a murdering ex-con pretending to be a preacher who pursues two children to find the loot his former cellmate hid in this film noir classic directed by Charles Laughton. Lillian Gish, Shelley Winters and Peter Graves also star.
The Night of the Iguana (1964)
John Huston directed this version of a Tennessee Williams play about a drunken, defrocked Episcopalian bishop, Richard Burton, who takes a bunch of Baptist women, including Deborah Kerr, Ava Gardner and the original Lolita, Sue Lyon, on a tour in Mexico and faces his life's failures.
Pale Rider (1985) †
Even more taciturn than usual, Clint Eastwood returned to the saddle as a mysterious preacher in this classic Western he also directed. He comes into a mining town in Gold Rush era California to wreak apocalyptic frontier justice on claim-jumpers threatening the poor citizens, and faces underage temptation provided by Sydney Penny.
Passion of the Priest
(Monk Dawson) (1998)
British film about a Catholic priest who descends into a world of forbidden love and betrayal in swinging 70s London. Based on an award-winning novel.
The Posiedon Adventure (1972) †
The original disaster epic of a capsized cruise ship is led by Gene Hackman, as a radical, athletic minister who bullies an all-star cast including Shelley Winters and Ernest Borgnine into following him on a desperate attempt to escape. The character has apparently been laicized into a former mayor in the 2006 remake, Posiedon.
Priest (1994) † † †
A sincere modern rectory drama about a closeted gay priest who begins to doubt after learning in the confessional of a girl's sexual abuse, and then gets caught acting out himself. Tsk, tsk. Tom Wilkinson plays his liberal rectory mate, a pastor who's sleeping with the maid. Gee, why didn't Rome like this one? Recommended.
The Priest and the Girl
(O Padre e a Moça) (1965)
Slow-moving Brazilian film about a priest newly assigned to a village who falls in love with a beautiful girl.
The Priests (2000)
Short but intense indie film about a dying criminal who mistakes the husband of a married couple for the priest he needs for his last confession.
Primal Fear (1996) †
Richard Gere as a lawyer in a courtroom drama, defending altar boy Edward Norton, accused of murdering an archbishop who may have had it coming. Survivors of clergy abuse may find the ending quite infuriating, so it's not recommended.
Princess (2006)
Obsessed with his sister's death, a porn star who OD'd, a young missionary chucks his career to seek bloody revenge while trying to care for his orphaned niece.
The Proposition (2003)
Kenneth Branagh plays a English priest in 1935 Boston who ministers, as it were, to a childless couple, played by Madeleine Stowe and William Hurt, giving them a diapered reason to call him "father". Isn't that sweet?
The Rosary Murders (1987) †
Donald Sutherland is at his most wooden as a priest who faces a crisis when a serial killer in Detroit, who leaves a rosary in the hands of the priests and nuns he murders, comes to him for confession. Surprise – the killer feels let down by the Church because they didn't stop him from abusing his daughter when he admitted it in Confession. How's that for gratitude? Like most of these confessional murder mysteries, they get the whole thing wrong. Charles Durning is typecast as his pastor.
The Runner Stumbles (1979)
A courtroom drama about a priest, Dick Van Dyke (!) working among poor coalminers, old nuns, and self doubts. He meets a young nun whom he can talk to, and soon is charged with her murder. Based on true events.
Sacred Silence
(Pianese Nunzio, 14 anni a maggio) (1996)
A young priest heroically crusading against organized crime in Naples falls in love with a 13-year-old boy and isn't sorry for it. Don't think clergy abuse survivors would like this one... just the description totally creeps me out.
Serenity (2005) †
Buffy the Vampire Slayer's creator, Joss Whedon, brought his brief-lived but much-loved cult sci-fi/Western TV series, Firefly, from the small to the big screen in this shiny remake. A freebooting starship and its quirky crew, including a preacher with a past, fight an evil space empire to save a mind-controlled mutant babe and her geeky brother. Sadly, there's only a brief scene with their mysterious holy man, Shepherd Book (Ron Glass), in the movie though. Pray to Joss for a sequel.
The Shoes of the Fisherman (1968) † †
A strangely semi-prophetic pious epic that weirdly foreshadowed the reigns of popes John Paul I and II. Anthony Quinn stars as a Russian bishop finally released by the Reds from prison who is made a cardinal by Pope Sir John Geilgud. When soon elected pope himself, he must face his own doubts, including whether to suppress his own personal secretary, Oskar Werner, a controversial theologian. Oh, and also prevent WWIII. Sir Laurence Olivier as the Soviet Premier and Leo McKern as a cardinal also star in this barely post-Vatican II propaganda piece. Original fugitive David Janssen features as a newsman in love in a silly and distracting subplot. Lots of footage from the council and the real-life papal transition along with lush Vatican settings included for those who miss the old days. This movie was later semi-successfully parodied. Recommended.
Sin City (2005) † †
Robert Rodriguez has rendered Frank Miller's dark graphic novels as a luridly gorgeous but grotesque star-filled digital masterpiece. Critic Roger Ebert scarcely does it justice by calling it "film noir on steroids". But justice is what it bloodily delivers – even to Rutger Hauer as a depraved cannibalistic cardinal (them hookers must be good eatin'), and to Frank Miller himself in a small role as a fallen priest involved in the murder of prostitutes. Almost as sensationally violent as The Passion of the Christ, but also involves pedophilia and did I mention, a cannibal cardinal? Recommended, but not for everyone.
The Sin of Father Mouret
(La Faute de l'abbé Mouret) (1970)
A devout but frail priest in rural France falls down and loses his memory. He is nursed back to health by a beautiful woman with whom he falls in love. Then he inconveniently remembers. D'oh! I hate when that happens... Based on a famous novel by Émile Zola.
The Singer Not the Song (1961)
A British Western about a priest, John Mills, who arrives in a town dominated by a mysterious man in black, Dirk Bogarde, and confronts him in his own way. Said to be unintentionally hilarious due to the unspoken gay subtext between the two leads.
Sinners (2002)
TV-movie about how pregnant Irish women were punished in conservative 60s Ireland like the better-known The Magdalen Sisters.
Sleepers (1996) †
In a supporting role, Robert DeNiro plays a good priest thrown into moral turmoil when four of his altar boys are thrown into prison for a stupid but deadly prank, are brutally abused, and later seek revenge. Strong cast, but the prison scenes will almost certainly trigger abuse survivors.
The Third Miracle (1999)
A fallen priest, Ed Harris, is sent to investigate a housewife for sainthood, and in the process recovers his own faith.
The Thorn Birds (1983)
A TV mini-series from a far more innocent age, this is supposed to be a great forbidden romance and not the story of the lifetime grooming of a victim. It's set in the Outback of Australia, involving an ambitious priest who uses a farming family on his rise to ecclesiastical power. Survivors of clergy abuse may well find it creepy. Richard Chamberlain is the priest and Sydney Penny and Rachel Ward (as her adult version) play the farmer's daughter who is trained by, er, yearns for him.
To Kill a Priest (1988)
The original Highlander, Christopher Lambert, plays a young charismatic Polish priest who speaks out against injustice and gets whacked for it. Ed Harris is the secret policeman who obligingly does the dirty deed. Supposedly based on true events in the early 1980s.
True Confessions (1981)
Acting giants Robert DeNiro and Robert Duvall team up as a priest and his estranged brother, a detective, to investigate the murder of a prostitute in Los Angeles that has links to powerful Catholics. Said to be an excellent film, supposedly based on the notorious "Black Dahlia" murder.
Two Mules for Sister Sara (1970) †
Clint Eastwood helps out Shirley Maclaine, who is posing as a nun, get revenge on a gang of rapists and fight the French Army in Mexico in this spaghetti Western version of Heaven Knows, Mr. Allison, but the chemistry between them works well.
Under Satan's Sun
(Sous le soleil de Satan) (1987)
Award-winning French drama with Gérard Depardieu as an overly zealous priest who must face his own demons while seeking to save a girl who has murdered her lover.
V for Vendetta (2005) †
Based on Alan Moore's comic book from the 1980s, this science fiction warning against fascism taking over Britain was transformed by the weird Wachowski brothers of Matrix infamy into a contemporary parable about Amerika, though still set in a bleak, future England. Hugo Weaving plays the mysterious rhyming terrorist modelled on Guy Fawkes, the Catholic who tried in 1605 to blow up Parliament. Natalie Portman gets tortured as the woman he saves from the oppressors only to psychologically and physically abuse her in worse fashion himself. Like a good little victim of Stockholm Syndrome, she then willingly helps him entrap and murder a pedophilic bishop before they get around to the Parliament demolition. Yes, it's trauma-based mind control for justice and freedom, kids. If that's not twisted, what is? Not recommended.
Viridiana (1961)
A wealthy man, Fernando Rey, who lost his wife on his wedding night is visited by his niece a few days before she takes her final vows. He drugs and assaults her but soon hangs himself, leaving his estate to her. Her efforts to help the poor are taken advantage of and despised by those she tries to befriend. Possibly surrealist director Luis Buñuel's most realistic film, it was immediately banned and burned in Franco's Spain.
The Walls Came Tumbling Down (1946)
When a priest is murdered, a private eye is drawn into a hunt for a lost Da Vinci painting in this film noir with a dangerous dame and a fake missionary.
The White Sister (1935)
Clark Gable plays a young soldier who falls for Helen Hayes, a princess who becomes a nun when she thinks he's dead. Whoops. Who will finally win her heart, Gable or God? The fact that there's even a question shows when it was made.
The Wrath of God (1972)
The great Robert Mitchum as a con man pretending to be a priest in this Western, who gradually gets faith as he tries to save a poor village. Frank Langella and Rita Hayworth (her last role) also star.
---
The fallen priests starring in historical films are usually the most notorious, like Rasputin. However, many of these movies are pious tributes to saints like Joan of Arc that could warm the heart of any Vatican apologist. But even the saints have their enemies among the supporting casts, and curiously enough, most of them seem to be at home among the clergy. There are a few, such like my personal hero, Friar Tuck, who manage to be good ministers to outlaws and other such outcasts.

This category excludes most Westerns and films about the twentieth century. As the issues depicted in these films tend to be more current, they remain listed under Drama. Films and TV shows that are concerned with contemporary events, like the clergy abuse crisis, whether they are fictional or not, can now be found below, under Documentary/Docudrama.
The Advocate
(Hour of the Pig) (1994) † † †
A lawyer in 15th century France seeks the simple life in the country, and soon finds himself reluctantly defending a pig belonging to a beautiful Gypsy from the charge of murder. Colin Firth is the bemused attorney involved in the mystery, Donald Pleasence as his legal opponent, Nicol Williamson as the local noble with secrets, and most notably, Ian Holm as a corrupt parish priest living the good life. Very authentic and well-done, based on the life and cases of a real attorney. Recommended – ignore the misleading box.
The Agony and the Ecstasy (1965) † †
Charlton Heston, as a driven Michelangelo, and Rex Harrison, as the impatient, armor-wearing and worldly Pope Julius II, squabble over the painting of the Sistine Chapel in the years just before the Reformation. One coat or two? Actually more about the pope than the artist. Recommended.
The Barchester Chronicles (1995)
Alan Rickman is a sleazily creepy English cleric in this TV mini-series based on the story by Anthony Trollope.
Becket (1964) † †
Richard Burton is that turbulent priest and later saint, Thomas à Becket, who inconveniently gets religion after being made Archbishop of Canterbury by his former drinking buddy, England's King Henry II, Peter O'Toole, and is given the chop by a couple of drunken knights for becoming such a spoilsport. Served him right. Really cool excommunication scene, too. Recommended.
Black Robe (1991)
Agony in the Great White North with Jesuits amid the Huron Indians in 17th century Quebec, complete with graphic torture scenes. Sounds like a whole lot of no fun to me.
Borgia: Faith and Fear (2011-) † † †
The Borgias (2011-) † † †
Perhaps the modern clerical crisis suddenly made entertainment based on the lives of bad popes more believable and interesting, because there is almost an embarrassment of riches here with two competing cable series about the worst one of them all, Pope Alexander VI. Two Borgia series at once: it's like the answer to a prayer!

Borgia: Faith and Fear is the European version. It takes an epic view, starring John Doman, who, though unknown, virtually channels Brando's Godfather throughout, utterly power hungry. The Showtime series, The Borgias, seems more concerned with personal relationships, and Jeremy Irons has a wonderful time hamming it up. While Doman looks much more like the porcine pope than Irons' lean and hungry look, both do great jobs as a corrupt prelate who may desire to reform, but is in fact, a primary source of evil.

The series are quite different, despite dealing with the same subject and having been made in the same place at the same time. Cesare, the pope's younger son who was forced to become a cardinal, is quite the hunky bad boy in the American version (played by François Arnaud) but a more tortured soul in the European one (Mark Ryder). Other members of the family, including Lucrezia (Holliday Granger and Isolde Dychauk, respectively), seem more alike.

There's plenty of lush Renaissance eye candy in both versions, high production values, and most of the costuming – including the clerical garb – seems reasonably accurate and appropriate. Best of all, neither pull any punches when it comes to dealing with Vatican corruption but take it for granted.

Looks like we'll have to wait for the second season or later for the orgies. however. Both are highly recommended, however, the DVD version of Borgia: Faith and Fear may be missing some episodes, so buyer beware.
Brother Sun, Sister Moon (1972) † † †
Franco Zefferelli's gorgeous rendition of the early years of saints Francis of Assisi and Clare show them as beautiful, other-worldly, flowerchildren, who face stern opposition, even violence, from the local religious authorities, before finally being approved by none other than old Obi Wan himself, Alec Guinness, as a worldly but wise Pope Innocent III. Recommended despite Vatican approval.
Cadfael (1994-1996) † †
The Emperor Claudius, Derek Jacobi, played a former Crusader turned monk who wisely solves murders in medieval England in this well-produced British TV series of adaptations of the popular mystery novels.
Camila (1984)
In 1840s Argentina, a Jesuit runs off with a woman only to be ultimately tracked down.
Casanova † †
There have been well over a dozen films based on the autobiography of the 18th century's most infamous libertine philosopher and serial seducer. He was a real-life character imprisoned by the Venetian Inquisition for witchcraft and later escaped. Oddly, however, his early career in the Church is barely ever mentioned, but Giacomo Casanova was ordained as a priest at age 15 before he was thrown out to find his true vocation as a con man and serial seducer.

His film biographies range from the serious, such as Fellini's 1976 melancholic version starring a wooden Donald Sutherland, through the flamboyant, like the recent British TV rendition with the great Peter O'Toole reminiscing about being Doctor Who, er, that is 10th Doctor David Tennant, in his flashbacks as a younger ladies' man. For absurdity, however, it is hard to top the unbelievably silly (and not really in a good way) 2005 comedy starring the late Heath Ledger as our playboy, who includes a novice nun who's actually a cardinal's mistress among his other conquests. Filmed entirely on location in Venice, it's at least gorgeous, and Jeremy Irons has fun and some good lines as Casanova's evil inquisitorial nemesis.
The Crucible (1996) † †
Arthur Miller's tragic play about witchcraft and oppression in Puritan New England is perhaps even more uncomfortably appropriate now than when he wrote in the 1950s. This excellent adaptation features Winona Ryder as a young teen leading her friends in witchy games that result in show trials, fake possession, and judicial murder, with Daniel Day Lewis, Paul Scofield, and Jeffrey Jones dragged along for the ordeal.
Daens (1993)
A reverential accounting of the story of Adolph Daens, a Belgium priest who became a political reformer in the late 19th century after witnessing the oppression of the poor by the Church-sponsored party, and got booted out of the priesthood for it.
The Decameron (1971)
Controversial Italian director Pier Paolo Pasolini's explicitly erotic rendition of nine tales from the classic Renaissance literary novel by Boccaccio includes one about a man pretending to be deaf in a convent of curious nuns and another about a seductive priest.

Well over a dozen other versions of varying quality and/or eroticism are listed in The Internet Movie Database.
The Devils (1971) † † †
Ken Russell's disturbing vision of Aldous Huxley's The Devils of Loudon, who co-wrote it with him is not for the easily squeamish. Oliver Reed stars as a priest blamed for the disturbances at a 17th century French convent, while Vanessa Redgrave plays a nun possessed by sexual demons. Based on real events, this must be the inspiration for the whole nunsploitation thing. Banned in Ireland. Recommended, but with warning.
The Fighting 69th (1940)
Pat O'Brien, the star of many priest movies, plays a chaplain who must convince cowardly James Cagney to fight in the First World War in this propaganda flick made on the eve of the second one. After all, killing Nazis is God's work, don't you know. Based on a true story.
Flesh & Blood (1985) † †
A surprisingly good drama about a band of religiously-inspired mercenaries who take over a castle during the wars of religion. Starring Rutger Hauer and Jennifer Jason Leigh.
An Argentinian flick about the renegade priest and philosopher who was roasted alive by the papal Inquisition in 1600 for the outrageous idea that other worlds may be inhabited. Heck, burning's too good for such insanity. More about him here.
Goya's Ghosts (2006) † † †
Amadeus' director Milos Forman created another exquisite jewel of a period piece with this story of a model whom the great Spanish artist became obsessed with and the fallen priest who entraps her. Stellan Skarsgård is Francisco Goya, while Queen Amidala, Natalie Portman, plays essentially three different characters. First, she's the innocent girl tortured by the Spanish Inquisition, then as the same but perhaps mad woman upon her liberation during the Napoleonic invasion much later, and also as her harlot daughter. Most outstanding, however, is Javier Bardem, utterly creepy as the evil inquisitor who rapes her but escapes his own condemnation only to return as a minion of the French. However, I'm really starting to wonder about Natalie's choice of roles. Strongly recommended, but there are a few scenes of torture.
The Hunchback of Notre Dame † † †
This popular Victor Hugo tale about Quasimodo, a deformed bellringer, features a depraved cathedral canon as the bad guy. There've been over a score of film versions over the years. Lon Chaney and Anthony Quinn are among those who have played the misunderstood monster, but the classic performance was given by Charles Laughton in 1939 with Maureen O'Hara as the gypsy love interest. The 1996 Disney cartoon Archdeacon in particular is surprisingly, even scarily, lustful and arrogant for a House of Mouse product — but Disney is also guilty of several TV specials with names like "Disney's the Hunchback of Notre Dame Topsy Turvy Games". That might even be worse than the 1985 British "Hunchback II: Quasimodo's Revenge." Recommended.
I, Worst of All
(Yo, la peor de todas) (1975)
A viceroy and archbishop newly assigned to posts in 17th century Mexico are intrigued by an aristocratic nun, Juana Inés de la Cruz. The viceroy and his wife encourage the nun to write erotic poetry and protect her until they depart, then the no-fun prelate persecutes her. Betrayed by a bishop, humiliated by her confessor, she finally must confess before the Inquisition. Based on true historical events.
In the Name of the Pope King
(In nome del papa re) (1977)
Italian film about machinations in the papal courts during the tempestuous reunification of Italy in the 19th century.
Joan of Arc † † †
The Maid of Orleans provided rich dramatic timber from her short career as savior of France. In movies, the saint invariably outshines everyone brilliantly, of course, including clerics, whether they are sly villains plotting her death at the stake or sincerely but uselessly advocating for mercy. Notable renditions include Luc Besson's The Messenger (1999) with Milla Jojovich, Victor Fleming's lavish Joan of Arc (1948) with Ingrid Bergman cheerfully toasting at the end, and an early made-for-TV version of George Bernard Shaw's brilliantly intellectual Saint Joan (1957). Recommended.
Kingdom of Heaven (2005) † †
Ridley Scott's spectacular medieval epic surrounding the fall of the Crusader Kingdom of Jerusalem tells the tale of a blacksmith played by elvish Orlando Bloom, lost son of crusading baron Liam Neeson, who nobly rises to become a knight and Jerusalem's last champion. Praised for its gorgeous look and timely portrayal of noble Muslims, it has several notably bad Christian clerics — including a grave-robbing priest, a cowardly bishop, and of course, those sneaky, fanatical Knights Templar, still getting the blame for losing it all after 700 years, opposed by the noble and wiser Knights Hospitallers (today known as the Knights of Malta). A beautiful historical film, more accurate than most, but the non-Hollywood ending may be a bit disappointing. Recommended.
The Last Valley (1971) † †
Michael Caine and Omar Sharif spar in this grim story of a band of soldiers trying to rule over and survive among peasants and their priest in the last untouched valley in the depths of one winter during the horrors of the Thirty Years War. Written by James Clavell, it probably doesn't really belong here, but it's very well done and far more historically accurate than most period films.
Luther † † †
No, not Superman's most determined foe, but the pope's. Martin Luther became a 16th century sort of superman by defying the Roman Church and somehow surviving to spark the Protestant Reformation. The theologian's tumultuous life has been the subject of several reverential biopics. In these, the fiesty German ex-monk is opposed by greedy, indulgence-hawking monks, calculating cardinals, and sybaritic pontiffs. Little mention is ever made of the reformer's own antisemitism and denial of the revolting peasants (not my fault, he said). There's a surprisingly balanced retelling in 1953's Martin Luther. Stacy Keach played him in the 1973 version, as did Joseph Fiennes in the 2003 remake. Recommended.
Magdalene (1989)
Historical fiction based on life of the priest, Joseph Mohr, who composed the music to "Silent Night". In early 19th century Austria, a young priest seeks to help a beautiful prostitute, Nastassja Kinski. They fall chastely in love, and he's torn. Then his superior, whose corrupt dealings with the local baron are threatened, pressures her to accuse him of soliciting her for sex in the confessional, which she refuses. Sounds like a little historical revision in the works to me...
A Man for All Seasons (1966) † †
King Henry VIII's unfortunate marriages that led to his own split from Rome and all that bother have long fascinated the world. Paul Scofield won an Oscar for his portrayal of the virtuous Thomas More, in this movie who paid for his opposition to England's royal divorce with his head. Quint of Jaws fame, Robert Shaw, is perfect as the fun-loving king. Among the wicked clerics are the awesome Orson Welles as the king's most sinister minister, Cardinal Wolsey, with Leo McKern as Thomas Cromwell. Can't do better than that. Highly recommended.

In the four-season cable series, The Tudors (2007-2010), essentially a gorgeous bodice-ripper, Johnathan Rhys Meyers plays a sexy, never aging, generally-hatless (don't get me started) king. He manages a credible mad monarch while looking absolutely nothing at all like the real Harry. Good solid performances by Jeremy Northam as More and others, while Sam Neill is properly sly and intriguing as Wolsey in the first series. In the second, Peter O'Toole has an easy time of it as the pope in the second, and in the third, Max Von Sydow plays a cardinal organizing opposition to Hank's religious coup. In the fourth and final season, things get even stickier between reformers and the old guard in merry old England, as the ailing king launches an inquisition to rein in the changes he himself has unleashed.

Other versions include the well-remembered Masterpiece Theatre series, The Six Wives of Henry VIII, with Brian Blessed chewing carpets as the bad mad monarch. Recommended.
The Mission (1986)
Jeremy Irons stars as an 18th century Spanish Jesuit who goes to the jungles of South America to build a mission utopia. He saves and converts a slaver, Robert DeNiro, who assists him and becomes a priest. When Portugal takes over the colony, however, DeNiro decides he must break his vows to help the Indians resist. Based on true historical events.
The Monk (1990)
Based on a famous Gothic18th century novel about a Spanish monk, revered by the people, who discovers a beautiful woman hiding in his convent. His lust surfaces, and soon he is not only sexually abusing her, but using her to gain more victims. And there is of course, Hell to pay. Starring the 8th Doctor Who, Paul McGann as the arrogant monk and Sophie Ward as his undercover lover.
The Name of the Rose (1986) † † †
The inimitable Sean Connery plays a Sherlock Holmes-like Franciscan monk who must solve a series of murders in a monastery in this excellent adaptation of Umberto Eco's masterful medieval mystery. With Christian Slater as his novice Watson, and F. Murray Abraham as a marvellously malevolent inquisitor. Based (more or less) on real characters. Highly recommended.
The Nun of Monza
(La Monaca di Monza) (1962)
In the 17th century, an aristocratic lady, Virginia de Leyva, is forced to take vows in the Italian convent of Monza, where she eventually becomes mother superior. After a violent love affair, she bears a baby girl, her lover is killed, and she is forced to spend a decade in a tiny cell. Corruption, secret sex between priests and nuns, hypocrisy, hysteria, and torture are all depicted.

This true story has been the inspiration of at least 8 other versions, mostly Italian, ranging from serious historical critiques to unintentionally funny nunsploitation.
The Nuns of Saint Archangel
(Le Monache di Sant'Arcangelo) (1973)
Deadly intrigues within a 16th-century Italian cloister. Said to be more history than nunsploitation.
The Pillars of the Earth (2010) †
A one-season (so far, although another has been announced) cable series about the building of a Gothic cathedral in 12th Century England during the chaos caused by the struggle between Matilda and Stephen for the throne. Ian McShane is the conniving, ambitious Archbishop of Canterbury, Matthew Macfayden as the prior under stress, and Rufus Sewell the unfortunate master builder.
Rasputin † †
The legendary "mad monk" with huge appetites and strange, hypnotic powers over the last of the Russian czars, and who proved nearly impossible to kill, has provided much fallen priest film fodder. The 1996 TV-movie retelling starring Alan Rickman is supposedly one of the best. In Rasputin: The Mad Monk (1966) the one and only Christopher Lee stars as the czar's favorite depraved advisor in this Hammer horror classic.

In Nicholas and Alexandra (1971), none other than the 4th Doctor Who, Tom Baker, hams it up as the sinister Rasputin in this lush Hollywood biopic about the fall of the Romanovs. And the animated family fantasy about the last czar's daughter, Anastasia (1997), features Christopher Lloyd as the voice of the evil wizard, er, monk.
The Reckoning (2003)
A priest on the run in 14th Century England takes up with a band of travelling players and uses the setting of a play to solve a crime and redeem himself in this medieval murder mystery. Sounds interesting desptie lackluster reviews.
Robin Hood † † †
Though a staunchly Christian good guy in all variations of the tale, Robin and the boys' spiritual advisor, Friar Tuck, is a more than a bit irregular for a Franciscan. He consorts with outlaws, is quite fond of malmsey and the king's venison, known for his quick temper, and rather suspiciously handy with a broadsword or staff as well. But it's always sweet seeing the even fatter prelates and vulture-like abbots regularly relieved of their ill-gotten alms, too.

Over sixty versions of the medieval English legends have been filmed, including cartoons, a neopagan TV series, a Mel Brooks comedy, a recent prequel starring Russell Crowe that I haven't seen, and even porn (don't ask). Everyone from Douglas Fairbanks to Kevin Costner has starred as the aristocratic freedom fighter. Probably The Adventures of Robin Hood of 1938, with Errol Flynn as the dashing outlaw, Basil Rathbone as his evil enemy, Sir Guy, Olivia de Havilland luminous as Maid Marian and Eugene Pallette as Tuck ranks as the enduring classic.

However, the long-running excellent British TV series of the same name (1955-60), probably had the best all-around Tuck with Alexander Guage (above) as our doughty doughy monk, a stern defender of the rights of the poor and his stomach. But though a regular in the show, he has few occasions to really show off his cunning, or his temper.

Aside from Tuck's introduction in the very first episode, where he fights Robin, there are regrettably few more "friar-centric" adventures, at least among the 39 episodes of the first season. He gets a good workout in "The Knight Who Came to Dinner", though, going in disguise to foil a greedy abbot's desire for land, and bests Robin in "The Wager" over who's the better beggar by tricking a pair of Norman monks who were not as poor as they claimed.

In Richard Lester's excellent 1973 film Robin and Marian, Sean Connery plays the aging archer returned from the Crusades to find Audrey Hepburn as Marian, no longer a maid but a reluctant abbess, with Ronnie Barker as our good friar, Robert Shaw as the sherriff and Richard Harris as bad King John. All recommended.
The Scarecrow of Romney Marsh (1964) † †
No. 6, the original Prisoner himself, Patrick McGoohan, plays a country priest living on the English coast in the 18th Century. Disguised as a scarecrow, he leads smugglers and rebels against the king's press gangs in this surprisingly well-done Disney TV effort.
The Scarlet Letter (1995)
There have been a dozen film versions of Nathaniel Hawthorne's classic tale of forbidden love in colonial New England. In the latest, the young woman played here by Demi Moore, believed widowed, has a secret romance with a popular Puritan pastor, Gary Oldman, and bears his child and public shame. Then things really get complicated when her husband, Robert Duvall, turns up seeking revenge.
Shogun (1980) † †
James Clavell's popular novel about a Protestant English navigator shipwrecked in Japan. He becomes a pawn of feuding samurai nobles in high-stakes political games. The fat novel became a huge TV miniseries with a sequel. Richard Chamberlain played the hapless sailor, with John Rhys-Davies as a rival mariner and lots of big-name Japanese stars including the incomparable Toshiro Mifune as the would-be shogun. Story involved several sinister Jesuit missionaries skulking around with the lords, looking fabulous in gorgeous bright orange silk robes and a grubby Franciscan or two on the way to crucifixion. Believe it or not, it's all based on actual events. Recommended.
Silence (2013?)
Still in production, Martin Scorcese's next feature has been getting a lot of discussion for years already. It's supposed to be about two Jesuit priests who infiltrate 17th Century Japan where the Shogun is busily persecuting the converted, which leads to doubts of at least one of the priests. Starring Daniel Day-Lewis and Benecio Del Toro. Looking forward to it.
Sister Smile
(Suor Sorriso) (2001)
A decidedly different take on The Singing Nun (1966), showing what came after. The singer, who rocketed to fame with the song "Dominique", is revealed as an unstable woman who fled the convent and the recording studio after fame hit. She then ran a home for wayward girls, embarked on a torrid lesbian affair with another ex-nun, got into drugs, and ultimately committed suicide. True story! Oh, the things they don't teach you in parochial school...
Sparrow
(Storia di una capinera) (1993)
Franco Zefferelli directed this tale about a novice nun in 19th century Sicily who returns home because of a cholera epidemic. Not allowed by her family to live normally, even though she falls in love, she is forced to return to the convent, where she finally understands why some nuns go nuts. D'oh!
Stealing Heaven (1988) † † †
A decent European version of the tragic but true love story of Peter Abelard, 12th century cutting-edge philosopher, and his student Heloise, the bright young niece of a relic dealer. Romance and then tragedy ensue as her enraged uncle, played by Denholm Elliott, decides to nip their blossoming relationship in the bud... literally. Ouch! Well, that's one way to ensure a vocation, but it's a pain that lingered through a lot of letter writing and inspires lovers to this day. Recommended.
Story of a Cloistered Nun
(Storia di una Monaca di Clausura) (1973)
Claimed to be based on a true story, this serious nunsploitation film is about a rebellious young woman sent to a convent. There she's degraded, seduced by nuns, and knocked up. After her lover is murdered by jealous nuns, she refuses to take her vows and leaves the convent to devote her life to charity.
The Three Musketeers † † †
Since the birth of film, this has been a wildly popular story. The Internet Movie Database lists nearly fifty movies with stars as varied as Mickey Mouse and Gene Kelly. And others keep coming out.

In all of them, Cardinal Richelieu, secret ruler of pre-revolutionary France, is hard to top as a powerful prelate with no conscience and his own political worldly agenda. One of the best, yet surprisingly understated performances was by Charlton Heston in the classic, hilarious two-part (1973, 1974) Richard Lester version, along with Richard Chamberlain as Aramis, a Musketeer and would-be priest who is hardly any less pious (or should that be more pious?) In the 1993 live-action Disney retelling, Tim Curry as Richelieu and Charlie Sheen as Aramis had a lot of fun, too.

Other works by Alexandre Dumas have been drawn in and adapted to the Musketeer mythos. In a star-studded remake of The Man in the Iron Mask (1998), Jeremy Irons, as Aramis, now not only a priest but the "secret general of the Jesuits" in France, has little ethical difficulty in preserving his anonymity by arranging the kidnapping and substitution of the wicked King Louis XIV, for his imprisoned identical twin brother, both played by Leonardo di Caprio. Well, it's for the good of France. Recommended.
The War Lord (1965) †
Charlton Heston is a Norman knight sent to defend a castle in a bog from the barbarians with his able squire, Richard Boone. One of the best, most realistic early-period medieval movies ever, with Maurice Evans in a minor role as a priest who has gone maybe just a wee too native. Recommended.
---
In recent years, there have been some gripping docudramas and documentaries made about the clergy sexual abuse crisis. Here are the ones I could find, and more will be added as I can. Anyway, when it comes to fallen priests, here are the real things.
The Boys of St. Vincent (1994) † † †
More pain in Canada in this award-winning, intense docudrama, based on the scandal-ridden Christian Brothers orphanage of Mt. Cashel in Newfoundland. Excellently produced, it may be very hard to take, and probably triggering for abuse survivors. Arguably has the creepiest priest perp in film, and no wonder, since it's based on real characters and horrific events. Recommended, but with strong warning.
Deliver Us from Evil (1990)
A powerful documentary about church corruption in the case of Fr. Oliver O'Grady, whose 30-year career of child abuse includes a disquieting interview of the perp himself. No doubt triggering for survivors.
Hand of God (2004) † † †
Originally shown on PBS, this award-winning, powerful and altogether excellent documentary by Joe Cultura about his brother Paul's abuse and the effect it had on their family is one of the most important and accurate pieces on the subject ever made. Highly recommended.
Holy Water-Gate:
Abuse Cover-up in the Catholic Church (2004)
Made for TV, this documentary features victims, whistle-blowers, and members of the hierarchy during key events in the crisis.
Judgment (1990)
A little-known TV drama based on the real-life case of Fr. Gilbert Gauthe, whose abuse of altar boys in Louisiana led to a report that was the first harbinger of the crisis to come. Doubtless triggering for survivors.
The Magdalen Sisters (2002)
Three Irish teenaged girls are sentenced to serve in the grim, prison-like laundry of an "asylum" run by sadistic nuns in the 1960s. Not nunsploitation in the least, featuring exploitation by nuns rather than of them. The story is based on the truly horrific medieval conditions in Ireland that lasted until the last laundry finally closed in the late 1990s. Definitely on my list to be seen but bound to be triggering to survivors.
Our Fathers (2005)
Christopher Plummer as Cardinal Bernard Law in this made-for-TV drama based on the clergy abuse scandal in Boston that the cardinal helped cover up and was rewarded by the Vatican for his efforts.
Secret Files of the Inquisition (2006) † †
A 4-part series shown on PBS' Frontline on the history of the Inquisition from the 12th to the 19th century. Along with covering the medieval persecution of the Cathars, the Spanish Inquisition's hunt for crypto-Jews, the Roman Inquisition's fight against the Protestants and how Pius IX fatefully used the Inquisition to kidnap a Jewish boy, there is a brief discussion of the case of a sexually predatory priest. Not bad, but could've been even stronger.
Sex Crimes and the Vatican (2005)
A documentary produced by the BBC Panorama investigative series that examines Crimen sollicitationis and 7 accused priests living in the shadow of the Vatican fighting to stay free.
Sex in a Cold Climate (1998)
Interviews with four survivors of the Irish Magdalene laundries and orphanages, with graphic accounts of clerical sexual and other abuse. It may be viewed online free at Google.
Twist of Faith (2004)
This documentary follows Tony Comes, an Ohio firefighter, as he comes to grips with his abuse and seek justice.
---
Sources for the above information are The Internet Movie Database and the movies themselves where available.
Aware of others? Please let me know....