---
The Fallen Priests Film Festival
Part I: Comedy
Movies and Videos
About Compromised Clerics
There's some funny movies involving clergy out there.
Not all of them are quite as banal or innocent as The Bells of St. Mary's or Sister Act
---
This page begins a list of movies and TV shows that feature "fallen priests"; for this purpose defined as Christian religious figures of either sex who are ethically challenged in some way. I'm sure many more can be added. Granted, some of the religious personages here are quite sure of themselves, but they've been included also, if they're questionable by others. These have been ranked, totally subjectively by me, in order of interesting characters and plots. A few movies about non-clerics trapped in priestly situations have also been included.

Lest it be said that this sample is scewed, out of all the movies described with the word "priest" for instance, in the Internet Movie Database, the ones listed here represent less than one fifth of the total.

Due to the list's ever-growing length, it's now divided into several sections: Comedy, Drama, Historical, Documentary/Docudrama, Horror/Supernatural.
300 SHOWS TOTAL NOW LISTED
---
Rating Guide
Note: this is not concerned with the overall quality of the film as much as the "fallen priest" aspect.

† — Has one or two scenes involving a wicked priest and/or Catholic weirdness.

† † — More plot and exposition or weirdness.

† † † — Lots of religious stuff or just worth it for the fallen priest alone.
And no daggers at all simply means I've not seen it yet, or can't recall it.

and means the entry has been added or amended fairly recently.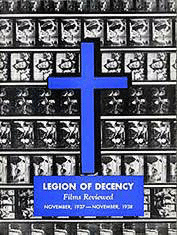 NOTE: These shows range from fairly innocent family fun to mature fare. Few listed here are in any way inspirational, but most of the rest are not too extreme by modern standards; however, not many of them would likely have been blessed by the Legion of Decency, the nuns who taught catechism, or your Mom.
---
Clerical comedies are not that common. But a surprising number of classic stories as well as modern ones have priests, monks, or ministers in comic, and not often very flattering, roles.
The always entertaining Ron Perlman stars as a priest trying to sober up. It won't be easy at St. Mark's School for Girls, whose residents are five bad Catholic schoolgirls with psychic powers and a sadistic schoolmarm. Yep, possession, temptation, and cheese, including light nudity and corporal punishment, with the requisite bad special effects, make for what I assume is a very intentional Catholic parody. Pretty funny in any case, and Perlman's rapping the Creed in the opening credits is a nice touch.
The Bishop's Wife (1947)
Cary Grant is an angel come to give relationship advice to David Niven, a well-to-do worldly Episcopal bishop involved in constructing a new cathedral. Loretta Young plays the bishop's neglected half in this supposedly heartwarming fantasy.
The Black Adder (1983) †
Rowan Atkinson stars as the evil but incompetent son of an unknown king of England played with scene-chewing gusto by Brian Blessed and aided by a great supporting cast in this hilarious British TV sitcom. Several episodes make marvellous fun of the clergy, including the third one,"The Archbishop" wherein Blackadder is reluctantly elevated to Archbishop of Canterbury and the fifth, called "The Witchsmeller Pursuivant" where he and his pals are accused of consorting with the Devil.

Other series were made with the same basic premise but set in later periods. Some also have clerical characters. In the Blackadder II Elizabethan-era episode "Money" from 1986, a "baby-eating" bishop played by Ronald Lacey attempts to collect on a debt.
The Blues Brothers (1980) †
Dan Ackroyd and John Belushi's magnificent comic odyssey to revive their legendary blues band is a "mission from God" to save the orphanage imposed on them by Kathleen Freeman as one of the scariest penguins in motion picture history. Ackroyd and director John Landis must have looked into some deep parochial-school fears for that scene. James Brown is natural as a preacher, too. A fun movie and true comedy classic, DESPITE the Vatican's recommendation.
Braindead (1992)
Before he went to Middle-Earth or Skull Island, Peter Jackson directed this gory, over-the-top but supposedly very hilarious horror-comedy about zombie mayhem, which includes a super ninja zombie-fighting priest. On the must-see list.
Dark Habits
(Entre tinieblas) (1983)
Sister Act according to Pedro Aldomóvar. A young woman hiding from police takes refuge in a peculiar convent where the heroin-shooting abbess falls in love with her. When the convent is in danger of closing, she helps them throw a party to persuade their wealthy donor to save them.
Dogma (1999) † † †
Apocalyptic fun abounds as Jay and Silent Bob save the universe in the person of Christ's last relative, Linda Fiorentino. This really belongs in the "fallen angel" category, but this very funny yet very Catholic exercise in intellectual eschatological satire by Kevin Smith features George Carlin as an hilarious, all-too-worldly cardinal and Carrie Fisher as an innocent nun that Jay molests. Other casting is equally fine, such as Matt Damon and Ben Affleck as the erring angels along with Salma Hayek, Alan Rickman, Chris Rock, and Jason Lee as assorted spiritual agents on either side. Alanis Morisette makes a divine cameo as God. Plus, it's got "Buddy Christ™"! "Catholicism WOW!" indeed. Highly recommended, just for fun.
Don Quixote † †
In all its versions, Cervantes' immortal tale of a knight-errant born out of time features several malevolent and/or foolish clerics who threaten the idealistic hero. In the superior TV mini-series of 2000, John Lithgow and Bob Hoskins team up as the befuddled dreamer and his simple servant. The darkest clerical allusions, however, seem to be in the musical version, Man of La Mancha (1972), with Peter O'Toole and James Coco as our heroes with Sophia Loren as his imaginary love, Dulcinea, and Ian Richardson as the threatening priest. Here the Inquisition is never seen but is always menacing. It's truly unfortunate that former Python Terry Gilliam was unable to complete his rendition; however, a fascinating documentary, Lost in La Mancha (2002), was made about his own quixotic quest. Recommended.
Dragnet (1987) †
This disappointing and largely unfunny take-off on the old TV series with Dan Ackroyd and Tom Hanks has Christopher Plummer as a big-time collar-wearing evangelist who's the secret master of a satanic cult. Yeah, cults sacrificing people to a giant snake — always good for a laugh.
Erik the Viking (1989) †
Tim Robbins stars in this Python-alum Terry Jones-directed Dark Age fantasy-comedy about a Viking questioning all the raping and killing. He takes a most unsuccessful though still game and ultimately quite useful missionary along on his quest for Valhalla and the meaning of life. Mickey Rooney and fellow Python John Cleese also have nice supporting roles.
Father Ted (1995-1998) † † † †
An award-winning, highly praised and often hilarious all-Irish BBC TV sitcom. It was based on the unlikely premise of three failed priests exiled to a dismal island off the west coast of Ireland. Father Ted lasted only three seasons before the creators pulled the plug lest it get stale. After a hesitant beginning, the satire just got better and better, but it only really got up to speed just before the end. Father Ted Crilly (Dermot Morgan), an embezzler, the most rational one, must cope with a horrible demented, drunken, disgusting priest, Father Jack (Frank Kelley) who mainly shouts "Feck! Drink! Arse! Girls!" and another, Father Dougal (Ardahl O'Hanlan), an amiable but utter idiot, and their annoyingly helpful housekeeper (Pauline McLynn). Plus of course, a host of other eccentric Irish characters, including a lineup of obnoxious and strange clergy that it mocked mercilessly, including the bishop that rightfully loathes them all.

Though the show has justly become a cult classic, alas, no revival is possible — the very day after filming was completed on the final episode, Dermot, the star, died. Make of that what you will. Personally, I'd like to know if any albino monks were lurking around. Highest recommendation because it's "fecking brilliant" and funny.
The Halfway House (2004)
Anything that combines H. P. Lovecraft with a "Mary Magdalene School for Troubled Girls" sounds promising. A girl infiltrates the place to investigate her sisters' disappearance and discovers a nun with secrets and a sadistic priest, tough girls, lust, and violence. Sounds like fun. On the must-see list.
History of the World: Part I (1981) †
There's a scene with Mel Brooks as a singing, dancing Torquemada, head of the Spanish Inqusition, merrily tormenting rabbis. What more need be said? "Send in the nuns!"
Hudson Hawk (1991) †
Bruce Willis and Danny Aiello have way more fun than seems at all warranted in this uneven action comedy that Willis wrote about a cat burglar who steals Da Vinci artwork from the Vatican for a world domination plot. Andie McDowell comes along as an undercover nun working for a secret order.
Josefine Mutzenbacher (1970)
The author of kiddie classic Bambi wrote this tale of streetwalker in Vienna in the early 20th century who sleeps her way to the top, including with family, friends, and her local priest. Sounds like family fare to me.
Keeping the Faith (2000)
This sounds somewhat like a joke, anyway: a priest and a rabbi fall for the same girl. Edward Norton, who also produced and directed this romantic comedy, plays the priest, Ben Stiller is the rabbi, and Jenna Elfman is their mutual love interest. Gee, I wonder who she winds up with?
The Last Supper (1995)
Five liberal grad students in Iowa, including Cameron Diaz, hold Sunday dinner parties to which they invite local extremists for political discussions, followed by murder. Sounds like the basis for a cooking show, doesn't it? Charles Durning is typecast again as one of the honored guests, a homophobic priest. More wine, Father?
Leap of Faith (1992) †
One of Steve Martin's better dramatic efforts, as a fake faith healer roaming the urban circuit with a busload of technical tricks. While stranded in a small town, he falls in love with Debra Winger and has to prove himself over the suspicions of sherriff Liam Neeson.
The Little Priest
(El Padrecito) (1964)
Mexico's answer to Charlie Chaplin, Cantinflas, plays a new priest out to win over a suspicious town of greedy people by speaking with a mind of his own.
The Little World of Don Camillo
(Le Petit monde de Don Camillo) (1952)
A hot-headed priest competes for popularity with the newly-elected communist mayor of an impoverished Italian town. In the sequel, The Return of Don Camillo (1953), the priest, having been exiled by his bishop, returns to settle a squabble in the village. You'd think another sequel, Don Camillo's Last Round (1955), would wrap things up but in 1961's Don Camillo: Monsignor, he gets promoted and goes to Rome, still arguing with that commie politician. Then, in Don Camillo in Moscow, (1965), they visit the Worker's Paradise together to see what it's all about.

After a respite, the series returned in 1983, starring Terrence Hill (who also directed it), in The World of Don Camillo. Can another grittier remake be far away?
License to Wed (2007)
Robin Williams is as manic as ever as a minister who puts an engaged couple through a gruesome ordeal before marriage in this movie that almost works better as a horror film. Williams plays him as an unfunny, sadistic voyeur, with a young boy "apprentice", and is more than a bit creepy, even in the TV ads.
Listzomania (1975)
Ken Russell's wild rock opera, often described as both visionary and grotesque, starring Roger Daltry as the Elvis of the 19th Century, has Ringo Starr in a cameo appearance as the Pope. I am intrigued by this one.
M*A*S*H (1970) †
Robert Altman's classic Vietnam-era black comedy about a frontline hospital in Korea has several notable religious allusions, including a parody of the Last Supper. A strong ensemble cast including Elliot Gould, Donald Sutherland, Tom Skerritt, Sally Kellerman, etc. leave little room for future DS-9 constable Rene Auberjonois as the ineffective chaplain, "Dago Red", who's more an obstacle to the surgeons than an aid. More sinister was Robert Duvall's repressed hypocritcal fanatic, Maj. Frank Burns.

During the first five years of the long-lived M*A*S*H TV series, (1972-1983) Larry Linville's Burns was still obnoxious, but much more moronic and harmless. While throughout it and its short-lived sequel, After MASH, William Christopher's Fr. Mulkahy was likewise softened, made more loveable and Tuckish, still bumbling but not nearly so dangerous.
The Missionary (1982) †
Michael Palin as an earnestly naive Victorian missionary who returns to England and winds up running a home for still-loose women in this low-key comedy. Not a laugh riot, more of a chuckling stroll. Maggie Smith plays his lustful aristocratic sponsor and Denholm Elliot serves as bishop.
Mon curé chez les nudistes (1982)
A French farce about a country priest sent on an ecclesiastical mission to a nudist camp. Mon Dieu!
Monty Python and the Holy Grail (1975) †
The same famous British comedy troupe that brought us The Spanish Inquisition sketch have a few bits of silly clerical humor in this hilarious Arthurian put-on, particularly the monks chanting as they whack themselves on the head with boards (which you can sing along with on the DVD), and that handy relic, the Holy Hand Grenade of Antioch.
Monty Python's The Meaning of Life (1983) †
The lads take on the big questions of Life, the Universe, and Everything. Relevant funny bits include: a musical number on Catholic fertility practices with dancing cardinals and nuns, a toadying prayer at an English boys' school, the very Hand of God, and of course, the delightful Christmas in Heaven number. Fortunately the DVD set also contains a very funny deleted mockumentary with a lustful Martin Luther after the sperm song which was sadly snipped from the film release.
Nacho Libre (2006) † † †
Jack Black stars as a romantic, overly-dramatic monk stuck in the kitchen of a poor Mexican orphanage who dreams of becoming a masked wrestler and win the big match to help the kids – and also impress a beautiful nun in this funny, affectionate look at Mexican wrestling. Said to be inspired by real-life clerical luchador Fray Tormenta, "Friar Storm" (who also inspired a 1991 French film starring Jean Reno, L'homme au masque d'or or "The Man in the Golden Mask".) Recommended.
Nasty Habits (1977)
Glenda Jackson struggles to become an abbess in this uneven Watergate-inspired cynical comedy about political hijinks in a Philadelphia convent. An all-star cast includes Geraldine Page, Sandy Dennis, Rip Torn, Eli Wallach, and also Dame Edith Evans, in her last role.
The Novices
(Les Novices) (1970)
Sixties sexpot Brigette Bardot plays a nun on the run who is helped by a prostitute to learn the secrets of her trade in this said to be disappointing French farce.
Nuns on the Run (1990) † †
Robbie Coltrane teams up with Eric Idle as two bumbling hoods who try to make off with the mob's dope loot and have to hide out in a convent disguised as nuns, of course. Not quite Sister Act in drag, fortunately; the humor is a bit sharper – Idle's brief explanation of basic Catholic theology for instance – and there is a "horny priest".
Nunsense (1993)
Nunsense 2: The Sequel (1994)
Nunsense Jamboree (1998)
Nuncrackers: The Nunsense Christmas Special (2001)
TV musical revues put on by the surviving members of a convent, mainly men in drag, the first to raise money for the burial of sisters killed by botulism, and the second to thank the donors, and on and on. Supposed to be quite funny if you like that sort of thing. Dear God, when will the madness end?
Picking Up the Pieces (2000)
When the hand of Sharon Stone, kosher butcher Woody Allen's murdered faithless wife, resurfaces from its grave in New Mexico, it leads to miraculous claims and exploitation, including by the town's fallen priest. This sounds so weird I think I'm going to have to see this one...
The Pope Must Diet (1991) † †
Another Robbie Coltrane vehicle, an apparent parody of The Shoes of the Fisherman. He plays a gentle, bumbling priest who accidentally gets elected pope. Hijinks and light satire ensue until the movie gets too close to some all too real issues involving the Vatican Bank and immediately veers off into disappointing slapstick and predictable farce. You can easily spot the exact moment when the producers got scared and changed everything, including the title. You see, originally there wasn't a final "t"... Recommended anyway.
Repossessed (1990) †
Linda Blair, the possessed victim in the original Exorcist and its first sequel must have been quite desperate for work to reprise her role yet again in this lukewarm comedy. Straight man Leslie Neilsen plays the older priest, and there's Ned Beatty as a televangelist.
St. Andrew's Girls (2002)
"Four Catholic school girls face killer nuns, gangsta Jews and giant lobsters." Okay, that sure explains why I've never heard of it.
Saving Grace (1985)
A new pope, disillusioned by the bureacracy, gets accidentally locked out of the Vatican and winds up ministering in an impoverished Italian village where he learns valuable lessons. Yeah, happens all the time, I'm sure, though I hear the pope is supposed have these keys...
Sirens (1994) †
Hugh Grant does his stuttering routine as an uptight English vicar in the 1920s with a sexually repressed wife, Tara Fitzgerald, who visit Sam Neill, as Norman Lindsay, a libertine Australian artist accused of daubing lewd and blasphemous pictures. Their encounter with a bevy of occasionally nekkid modeling beauties, including supermodel Elle Macpherson, and a mysterious handyman, proves liberating. Inspired by the real controversial painter and his erotic work.
The Sound of Music (1965) † †
Julie Andrews is a trouble-causing novice farmed out to take care of the brood of Christopher Plummer, a widowed Austrian Naval officer (huh?), by a wise old mother superior in this well-known musical about a family of singers escaping the German takeover. A sentimental family favorite based on a true story; however, repeated overexposure has been known to induce sympathy for the Nazis. Just try to avoid it, as if you can.
The Three Stooges (2012) †
Paying reverential homage due the whacky legacy of Moe, Larry, and Curly, this feature film by the Farrelly brothers (set up as three of the short films like those the beloved originals starred in) contains spot-on performances by unknowns Chris Diamantopolous, Sean Hayes, and Will Sasso. Like The Blues Brothers, the plot is largely an excuse for mayhem as the boys try to save the nun-run orphanage they grew up in, so there's a few nice bits of funny anticlerical violence but there could have been oh so much more. Jane Lynch offers it up as the exasperated Mother Superior, and Larry David makes a very convincing mean sister (which is why I can list it here in good conscience).

Turns out at the end that the nuns are running a resort spa (one of them's Kate Upton in a bikini) bearing the name of the Sisters of Mercy – a real order that's implicated in a number of child abuse cases. Product placement or satire? If the former, maybe not such a great idea given the Vatican's current mood, if the latter maybe too subtle for Stooge fans but still excellent.
Touch (1997) † †
When Skeeter Ulrich, looking all Jesus-like, is discovered to be a miraculous-healing, stigmatic former Franciscan missionary turned social worker, everybody wants a piece of him, starting with Christopher Walken, putting on the smarm as a slick preacher sunk to RV salesman, a fanatic traditionalist with vivid fantasies played by Tom Arnold, and slimy media folks. Oh yeah, and all those sick and dying people too. However, when he hooks with record promoter Bridget Fonda, he loses the power cosmic – or does he? A quirky comedy-drama based on an Elmore Leonard story.
The Vicar of Dilby (1996-2007) †
Long lasting British TV sitcom about a bubbly female Anglican priest, Dawn French, who comes to serve at a conservative village, which like all British villages, is full of eccentrics. There she must earn acceptance despite her love of chocolate and rock'n'roll, and, of course, her gender.
The White River Kid (1999)
Bob Hoskins is a self-ordained monk avoiding the law and wandering through Arkansas selling socks with his partner, Antonio Banderas. Complications ensue when he falls for a blind teahouse owner, sparking jealosy in his friend.
---
Sources for the above information are The Internet Movie Database and the movies themselves where available.
Aware of others? Please let me know....
---